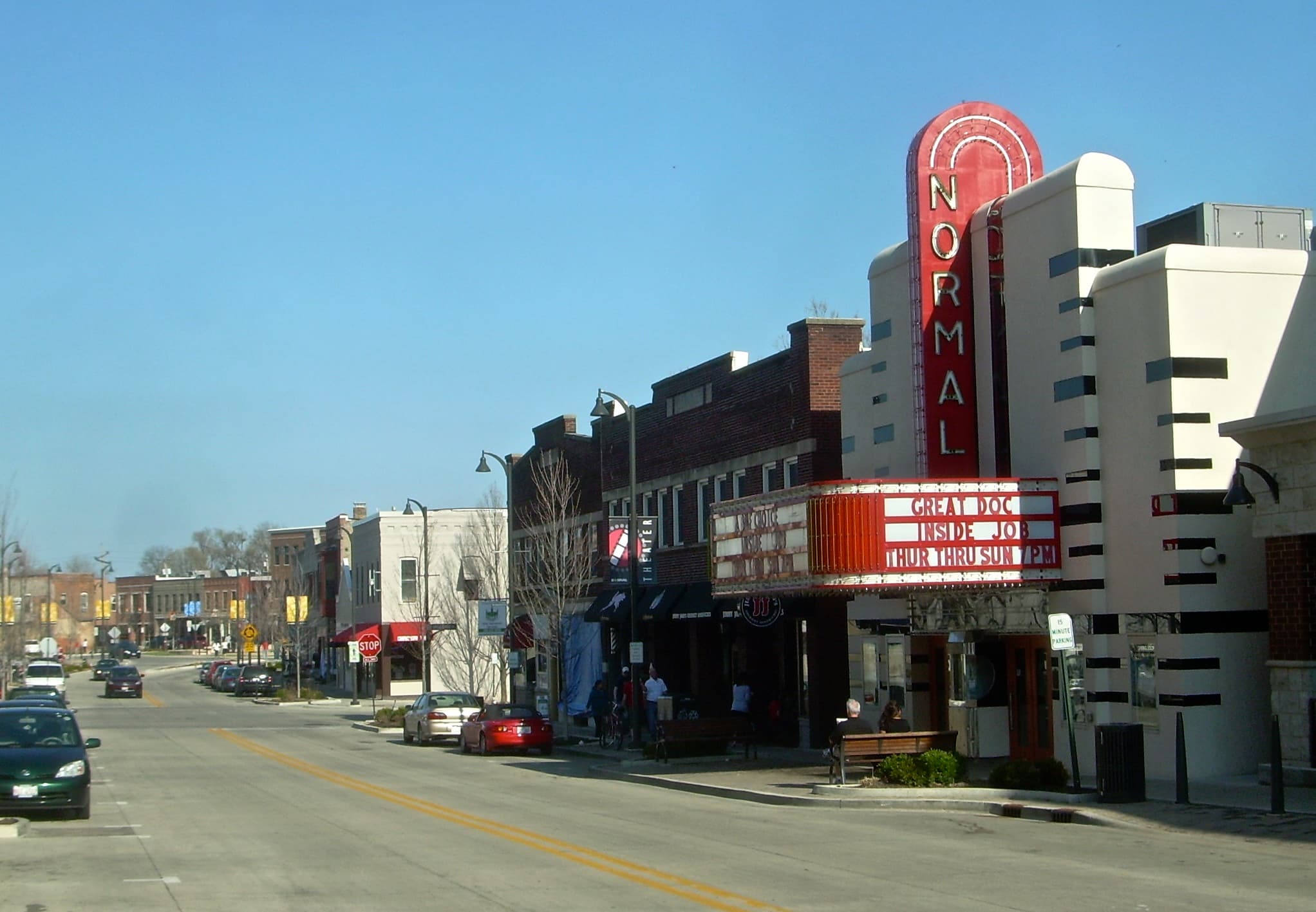 Normal, Illinois is home to the great Illinois State University and other community colleges. Normal might not be the biggest entertainment city in the state, but it sure has plenty of outdoor and indoor attractions worth noting. The young college community in Normal also helps bring a great vibe to the area.
We at the Flatts Student Apartments wanted to take a deeper look into this great community and explore everything Normal has to offer. That's why we decided to share our list of the best things to do in Normal, IL. So get up and experience the following things to do around Normal:
211 North Main Street, Normal IL 61761
From tailgating with fellow Redbirds to the actual event, attending an ISU football game is definitely one of the best things to do in Normal. For many years, the Redbirds have had an old-fashioned football tradition of keeping the fans engaged in every part of the game whether they're there to play, watch, or coach some Redbird football. The Hancock Stadium can hold just over 15,000 people which means there's always plenty of show to go around. Both Redbird and visiting fans can enjoy from the chants, marches, cheers, food, touchdowns, and everything else that makes football amazing. As always, every ISU athlete makes sure to give it their best every time they step onto the field on game day, so you know they won't disappoint.
Gregory St, Normal, IL 61761
A nice stroll or jog through Maxwell Park is an excellent thing to do in Maxwell if you're looking to stay active. The 125-acre park offers playing fields, tennis courts, three apparatus areas, and picnic areas. The park's playing fields include the Champions Field facilities (Softball Fields and Tennis Courts), which is considered one of the best recreational sports facilities in the area. The park also offers great a horseshoe court, disc golf course, dog park, natural area, and a cross country course for those who like to have fun while staying active.
101 E Beaufort St, Normal, IL 61761
Every child needs something fun to do every once in a while around Normal. The Children's Discovery Museum in Normal features hands-on exhibits, classes, and programs that actively engage children and stimulate great imagination, curiosity, and wonder. It's a great place to take your children for a great learning experience you can't find anywhere else.

100 N University St, Normal, IL 61761
Stopping by to learn about Illinois State University is one of the things everyone should do when in Normal. The institution offers plenty of successful programs and a unique student experience that is worth recognizing. You'll be able to check out how students go about their daily schedules, the best spots to hang out, and a beautiful campus. There are usually student-led campus tours for those who are interested in visiting ISU.
1020 S Morris Ave, Bloomington, IL 61701
Miller Park Zoo features plenty of popular zoo animals, exhibitions, and interactive learning for visitors to enjoy. The zoo is home to various majestic creatures including the Galapagos tortoise, Sumatran tiger, flamingos, bald eagles, and more. The exhibits at the zoo showcase replicas from distinct ecosystems around the world. Many kids also love to get their face painted with their favorite animal. Miller Park Zoo is a great place to do something a bit different with the family in the Bloomington-Normal area.
503 E College Ave, Normal, IL 61761
Anderson Park is another historical landmark worth visiting next time you want to enjoy the outdoors. The 10-acre park features great swimming pools, a ballfield, basketball courts, tennis courts, a paved trail, and playground area where the community can stay active. This particular park has gone through many upgrades since it was first built in the 60s. Overall, it's a nice spot to go out and relax with the family on a nice weekend afternoon.
209 W North St, Normal, IL 61761
The Normal Theater allows you to enjoy a diverse lineup of classic films including popular independent, foreign, and documentary films. The theater also hosts its fair share of concerts, comedy shows, and lectures that help make Normal a diverse cultural destination. This theater is the best spot in the Bloomington-Normal area where you can enjoy the perfect mix of artistic entertainment.

1000 Monroe Dr, Bloomington, IL 61701
The David Davis Mansion is a beautiful home estate that was built in the 19th century. The mansion was home to David Davis, a man who was a close friend of Abraham Lincoln and influenced his presidential success. Today, visitors will find a large collection of mid-nineteenth-century decorative arts and technological conveniences that demonstrate the life of the wealthy family. Visiting the mansion is one of the most interesting things to do around Normal since it offers a quick trip to the Bloomington's past.
Visit Skate 'n' Place
1704 S Morris Ave, Bloomington, IL 61701
One of the best things to do in the Bloomington-Normal area that'll bring out your inner-child is going to Skate 'n' Place. Don't worry if you don't have any skates because the spot offers plenty of skate rentals. It's a fun spot to enjoy an evening full of skating and great music playing in the background. The roller skating rink is also a great spot for hosting birthday parties and fun special events. The rollerblading experience is fun and a great way to challenge yourself and stay active on your next day out in the Bloomington-Normal area.
101 S Madison St, Bloomington, IL 61701
Since 2006, the Grossinger Motors Arena has been delivering some of the best live entertainment in the Bloomington-Normal area. The arena features concerts, family shows, ice shows, motorsports, and trade shows for all members of the community to enjoy. It's a great place to go enjoy a night of fun with your friends and experience traveling entertainment at its finest. Just make sure to check out the arena's event calendar to stay up to date.
2201 Stone Mountain Blvd, Bloomington, IL 61704
How about taking a small trip down to one of Bloomington's best parks? Tipton Park is a great place to enjoy a walk with your dog, peaceful jogs, or just sit near the rocks by the water and enjoy the cool breeze. The park also features a community spray park that is open from mid-May to mid-September. Plenty of locals from both Bloomington and Normal head out there to beat the heat in style.
Sycamore Street Between Fell and Linden, Normal, IL 61761
Hidden Creek is a 5-acre nature area that tffers plenty of outdoor things to do in Normal. Visitors can enjoy hiking, benches, picnics, and plenty of natural areas with amazing views. Hidden Creek Nature Sanctuary is a nicely shaded area, so it's great for autumn and spring adventures.
209 E Washington St #1, Bloomington, IL 61701
One of the most interesting things to do in the Bloomington-Normal area is catching a show at the Castle Theater. The theatre first opened in 1916 and has been entertaining nightly crowds through live music acts. The venue has an amazing setup that'll have you feeling that music is king at the place by focusing everything around the main stage. The Castle Theatre features plenty of outstanding musicians that play great music including Rock, Americana, Country, Blues, Jazz, and Contemporary Alternative. How's that for nightly entertainment?